Why Should You Book Direct With Us?

Best Rate Guarantee
At The Lake Vacation Rentals offers the best rates anywhere online for our vacation rental properties. Book direct and avoid third party fees. You can save up to 20%!

Book With Confidence
Call one of our local Vacation Planning Specialists during normal business hours, or book online 24/7. Our secure payment portal gives our guests peace of mind that their transaction is encrypted and secure

Boutique Service
Our friendly staff of full-time Vacation Rental Specialists live and work in the Lakes Region and they're here to help you before, during and after your stay with us
Search now or give us a call at (603) 253-9871! #bookdirect
Best Possible Price Guaranteed
Many people don't realize this, but Mega Booking Sites like HomeAway, VRBO, Airbnb, and TripAdvisor are charging vacation guests up to 20% in fees just for booking on one of their sites. These fees can add hundreds of dollars to the cost of your vacation. When it comes to booking your vacation at the lake, cut out the middle man! It pays to book direct and book local, instead of using a Mega Booking Site.
Local Full-Time Staff with Local Expertise
As some vacation rental companies change ownership and business models, or with any of the Mega Booking Sites, you may find yourself speaking with an out-of-town call center representative who has never been to the properties that you are interested in and is not familiar with each property, its policies or even the Lakes Region. By contrast, our Full-Time Vacation Specialists live and work here in New Hampshire's Lakes Region. Our staff has expert knowledge of all of the vacation properties that we represent. We are able to provide you with specific information about amenities, furnishings, access to the waterfront and more. We can also give local tips on things to do in the area, events, places to dine, or answer any other questions you may have. Vacationers to New Hampshire's Lakes Region have trusted At The Lake Vacation Rentals to help them create lasting vacation memories since 1980.
Boutique Service
We represent a limited number of carefully selected local properties which allows us to provide personalized service to both our homeowners and their vacation guests. We have seen vacation rental guests beginning to express their frustration with Mega Booking Sites and their lack of accountability to guests' overall vacation experience.
Our service to our guests and our homeowners is one of the things that sets At The Lake Vacation Rentals apart. We make every effort to ensure that our guests enjoy their vacation At The Lake! Should an unexpected issue arise during your vacation, our in-house team or trusted network of tradesmen, will work to resolve the issue as quickly as possible. We understand that sometimes an issue may arise after our office has closed. Our guests are provided with an emergency maintenance phone number at check in so that they can reach a local on-call member of our team after hours should an issue arise that can't wait until the morning (e.g., septic issues, no water, lost keys). Our efforts to ensure our guests have memorable vacation experiences is a key reason we serve more and more "repeat" guests each year.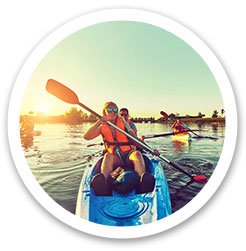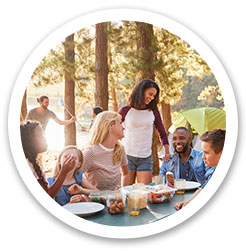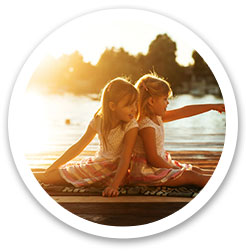 "At The Lake Vacation Rentals' staff is super friendly and very easy to work with. We felt they provided great communication and addressed all concerns / questions we had before and during our stay at the lake. Their fees are also MUCH less than some of the bigger rental places (like VRBO, HomeAway, etc.)"